Ocmulgee National Monument near Macon put on most-threatened parks list
By CHRISTOPHER QUINN
Atlanta Journal-Constitution Staff Writer
[ The Atlanta Journal-Constitution: 3/26/02 ]
Plans to run a highway between the Indian mounds of Ocmulgee National Monument caused the National Parks Conservation Association on Monday to call Ocmulgee one of the 10 most-threatened national parks in the nation.
Ocmulgee takes its place among more well-known parks with problems, such as the Great Smoky Mountains National Park and its air pollution.
Ocmulgee preserves thousand-year-old Indian mounds, village sites and the mysterious Earth Lodge, a circular mound with a room and clay seats inside. The mounds are in two separate sections, and the state Department of Transportation is studying routing the Fall Line Freeway between the sections. The Fall Line Freeway will link Macon to Augusta and Columbus.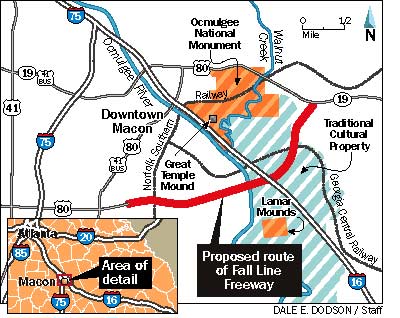 "We simply can't accept a four-lane highway passing just a stone's throw away from the national monument and straight through a piece of land with nationally significant artifacts, when other routes exist," said Jill Stephens with the park conservation group.
The undeveloped private land around the monument in Macon has a federal designation like that of a historic neighborhood because of its archaeological sites and the land's importance to the Muscogee Creek and other Indian nations.
Jim David, the superintendent of the monument, said there have been discussions about expanding the park. Common sense would dictate that the undeveloped land between the two sections, where the proposed highway would run, would be the best land to expand the monument, he said.
"Having a four-lane highway going through that would make that acquisition far less possible," David said.
Advocates for the route, including local politicians and businessmen, say it is the only one that gives Macon traffic relief and brings needed development. Other proposed routes skirted the city.
The state DOT listed the route as a preferred alternative in earlier studies, which were rejected by the Federal Highway Administration. The FHWA said it looked like the state was writing its studies to justify the route, rather than to find the best route.
Vicki Gavalas, a spokeswoman for the state DOT, said the state did not write studies to justify the route. The new studies should be finished late this year.
Other national parks on the list: Great Smoky Mountains, Everglades/Big Cypress National Preserve, Federal Hall National Monument in New York, Glacier National Park, Glacier Bay National Park and Preserve, Mojave National Preserve, Valley Forge National Historical Park, Yellowstone and Big Bend.
http://www.accessatlanta.com/ajc/metro/0302/0326ocmulgee.html