Thursday, Jun. 18, 2009
Macon levee inspection nearly finished
By Phillip Ramati - pramati@macon.com
http://www.macon.com/198/story/751799.html
(some photos are online)
Macon Mayor Robert Reichert hadn't settled in on his first day in office in 2007 when the U.S. Army Corps of Engineers paid him a visit.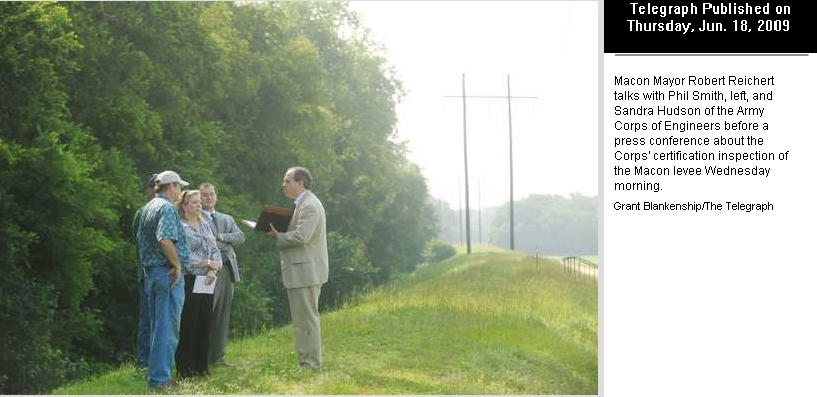 The agency's representatives told him that Macon's levee could lose its certification ­ and possibly federal funding ­ unless certain requirements were met, including cutting down mature trees on the earthen embankment.
Members of the corps began evaluating the city's levee Wednesday morning. The agency is scheduled to finish its survey today, but its formal report won't be presented to the city for several weeks.
Informal checks this year indicated that the city has made the improvements necessary to maintain federal flood protection.
Reichert said Wednesday that the city had worked closely with the Macon Water Authority to make certain that all of the corps' requirements have been met.
"We evaluated the situation and determined what we needed to do," Reichert said. "We partnered with the Macon Water Authority, and they took the lead role to keep the levee from being decertified."
Loss of certification meant the city would become ineligible for federal funds should there be a flood and the levee had failed.
The root of the problem? The roots and large trees along the levee. Phil Smith, a safety engineer with the corps' Savannah District Levee Program, said vegetation issues are common for most levees. Though his inspection won't conclude until today, Smith said photos he has seen of the levee showed that the city has had the trees removed.
Trees can undermine the integrity of the embankment, because if a tree is knocked over by heavy winds or flooding, the roots can pull out large chunks of the levee. "We've seen that Macon has been doing work on its levee," Smith said. "Vegetation is the big issue with most levees, and it always will be."
For many years, Reichert said, the corps hadn't been strict in enforcing the rules for levees. But after the Flood of 1994 in Macon, combined with the national attention that levees received when they collapsed in New Orleans during Hurricane Katrina in 2005, the corps has been much more strict in making sure that all levees meet all qualifications for certification.
"What was acceptable before was not acceptable now," the mayor said.
Over the years, the city had contended that the levee's problems were a design issue, Reichert said, but the corps has countered that they were a maintenance issue.
Now, Reichert said, "We're on the same page as the Corps of Engineers."
Bill Causey, head of the city's engineering department, said it cost about $350,000 to remove the trees and their roots, then rebuild those sections of the levee.
The city also has been doing work repairing a sinkhole that formed near the levee in April. That repair work is costing about $86,000, according to reports.
Information from The Telegraph's archives was used in this report.
To contact writer Phillip Ramati, call 744-4334